See on Scoop.it – Digital Transformation of Businesses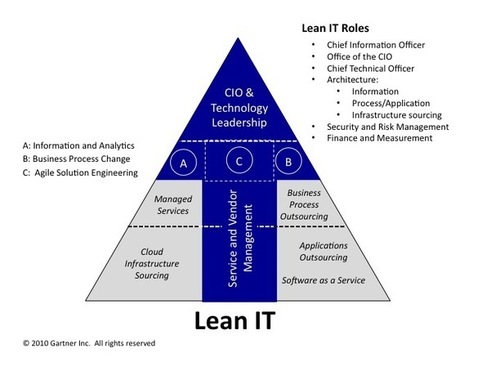 Leading CIOs see the move to a leaner IT structure as a natural response to changing IT economics and new consumer-based technologies. A lean IT organization is created through a process of addition by concentrating on the resources in areas where IT expertise can add value.
Farid Mheir's insight:
I keep going back to this short blog post from Mark McDonald (now with Accenture) as I find it provides amazing insights in the transformation that IT organizations must drive. CIOs must lead this transformation, which requires changing their internal processes and morphing their team skills from those of server-hugging team to architecture, contract management and data management.
Read the post, Mark says it better than I do.
Unfortunately I fail to see many organizations going in that direction. Not yet anyways.
See on blogs.gartner.com